Excellence in recycling
Umicore Precious Metals Refining operates as one of the world's largest precious metals recycling facilities. This business unit of Umicore is the world market leader in recycling complex waste streams containing precious and other non-ferrous metals.
We offer eco-efficient recycling and refining services for precious metal bearing materials such as by-products from other non-ferrous industries (e.g. drosses, mattes, speiss, anode slimes), consumer and industrial recyclable products (e.g. electronic scrap, spent auto catalysts , spent industrial catalysts, sweeps and bullions).

We recover and sell precious metals (silver, gold, platinum, palladium, rhodium, iridium, ruthenium), special metals (indium, selenium, tellurium), secondary metals (antimony, tin, bismuth) and base metals (lead, copper, nickel). We put them back in the cycle for a better life.
Umicore
The historical roots of Umicore go back more than 200 years. The Group in its current form is the result of the coming together of a number of mining and smelting companies which gradually evolved into the materials-technology company Umicore is today.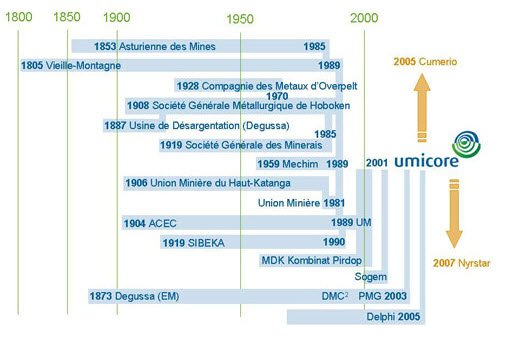 Umicore Precious Metals Refining
1887 - Start of a lead de-silvering operation in Hoboken
1919 - Société Générale Métallurgique de Hoboken becomes an integrated lead smelter

1945 - Development into a complex lead/copper smelter

1975 - Major investments to reduce environmental impact

1985 - Investment program to increase refining capacities for precious metals

1995 -1998 - Investment program to re-engineer the complete metallurgical flowsheet, including the commissioning of the new smelter and a new silver and gold refinery, accompanied by a substantial capacity increase for platinum group metals. Through the development and implementation of this state-of-the-art technology, Umicore Precious Metals Refining consolidated its position as the world's leading precious metals refiner.

1999 - Commissioning of new equipment for dedicated sampling of catalysts and electronic scrap

2000 - Start of the site rehabilitation project

2001 - Building of a new leaching and electrowinning plant in Hoboken

2003 - Integration Precious Metals Group (PMG)

2010 - Building of a new rechargeable battery recycling plant in Hoboken